Two Delivery Approaches to Create Unforgettable Experiences
Left: Jennifer Barker Honda of Concord (NC) runs through her delivery approach while being filmed for a Honda video in Napa Valley, California. Right: A sales associate from Hendrick Lexus South in Kansas City adds the finishing touches to a surprise delivery for a customer's wife.
APPROACH 1: KNOW YOUR CARS
When it comes to caring for our customers, it is just as important to make sure they feel as positive about their car-buying experience as they do about the vehicle they purchased. Jennifer "Jen" Baker lives out that statement every day in her job as a sales associate for Honda of Concord.
In September 2016, Jen moved to Charlotte and got a job at Honda of Concord. At the time, she had been selling Hondas for more than 9 years and felt very comfortable with the brand. But as time evolved and the vehicles became more and more computerized, she knew it would be increasingly challenging to learn all the new features, and more importantly, find ways to make her customers feel comfortable with them, too.
In 2017, Honda announced they would be hosting a National Delivery Competition for the 2017 CR-V, challenging employees to submit videos demonstrating their knowledge and customer delivery approach. Jen immediately knew this would be the perfect way to further improve her skills, highlighting the many things she had learned selling Hondas over the years. She submitted a 5-minute video highlighting her strategy for explaining the most valuable features of the car, and placed second in her North Carolina zone.
"Because I placed well that year, the managers immediately nominated me for the 2018 competition, in hopes that I would make it to the final competition out in Napa Valley, California. I wanted to make my teammates proud and I felt confident given how natural my customer approach is since I do it every day," Jen said.
For the 2018 competition, Honda challenged participants to submit a 10-minute video showcasing a "walkaround" of the 2018 Honda Accord, and asked them to specifically highlight how they could personalize the experience during a customer delivery.
Jen submitted her video in January and soon learned that not only was she one of 445 entries nationwide, but she had placed first in her zone. Then soon after, Jen was notified that she was not only a finalist, but that she would have the opportunity to attend the competition at Calistoga Ranch in California to compete against the 11 other individuals who had been selected.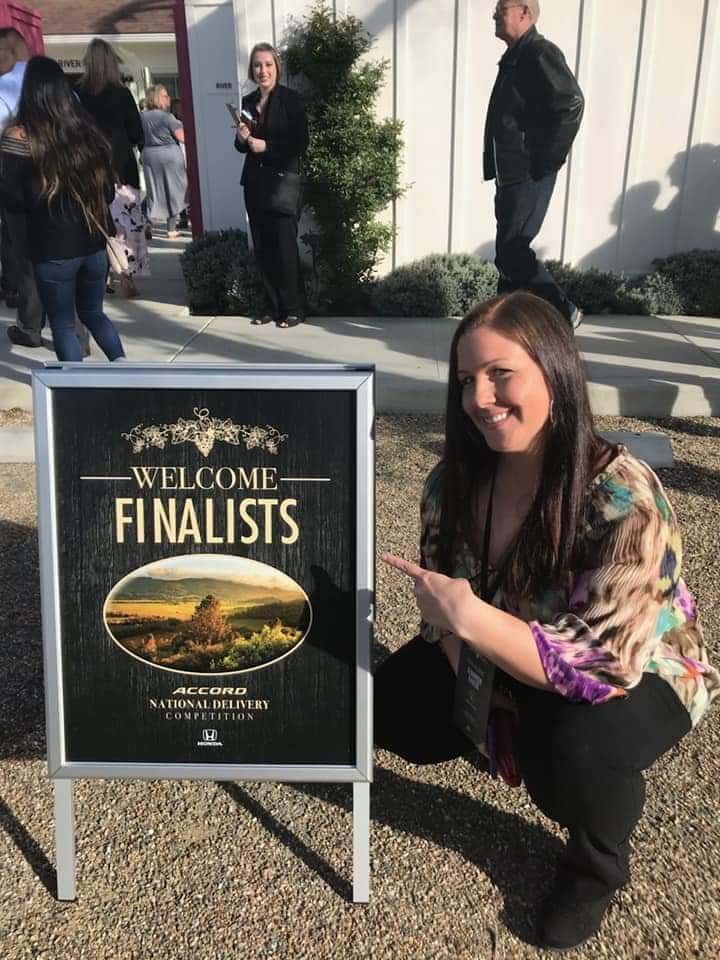 We are proud to share that after two days of presentations in front of Honda's national training team, Jen placed fourth in the National Delivery Competition. "It is amazing that I got to be recognized for doing something that I love to do and get to do every day. I know my customers will have a better experience because of this opportunity," Jen said.
Jen's advice to others who deliver cars is, "Just know your stuff. You don't need a competition to be empowered to go out and learn the features of a vehicle and customize your delivery approach for what most interests a customer. You can do that on your own and it's extremely rewarding when your customer leaves happy."
APPROACH 2: KNOW YOUR CUSTOMERS
A past sales associate at Hendrick Lexus Kansas City South in Merriam, KS, who now works in another role in the dealership, shares her past delivery approach.
What I loved when selling and delivering cars was getting to know my customers, and then doing something with what I learned to surprise them in a meaningful way.
One customer delivery I enjoyed the most included assisting my client, Jeff Russell. He was researching cars very carefully, and through the process of helping him I learned he was spending so much time on identifying the right car because he wanted to find the perfect vehicle with certain safety features and maintenance plan for his wife as a surprise for her birthday.
Once I knew about his surprise, I decided to help make it as special as I could for his wife Christy, which in turn would make it special for Jeff too.
We secretly delivered the car to their house where Jeff would bring Christy following a birthday dinner out at a restaurant. When she arrived home she saw the car in the driveway with a big red bow and a gift tag indicating it was for her from Jeff. She was thrilled and even more excited the sale had not yet been finalized, so she was able to come to the dealership the following morning to pick out the color. And of course, we had flowers there for her, too.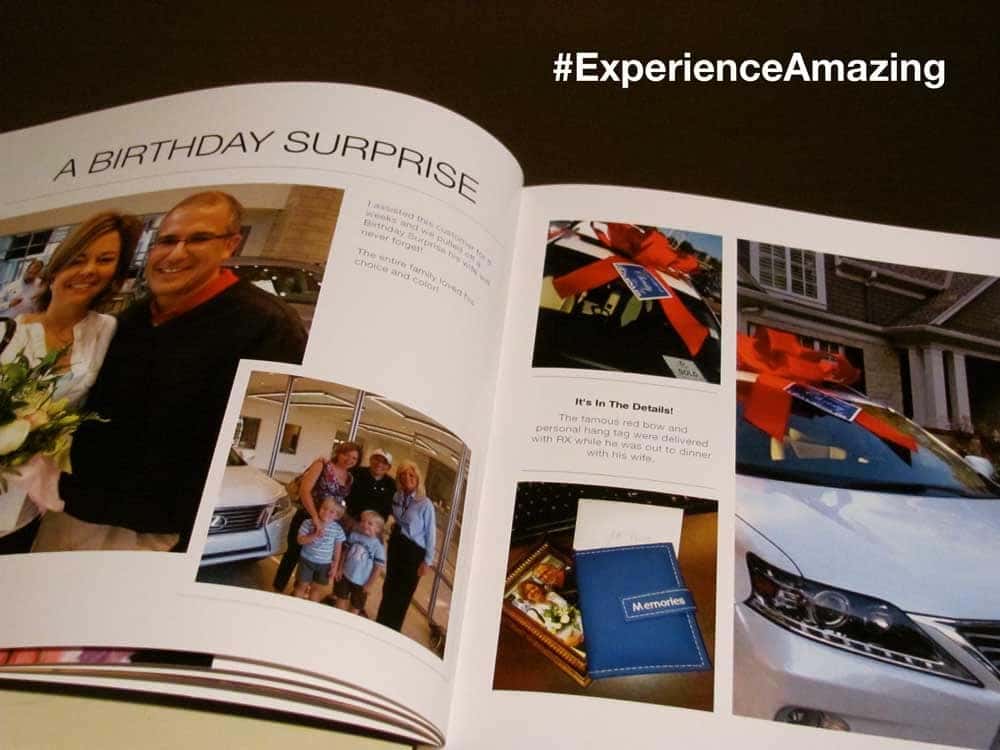 Another time, I learned in talking with my customer that her daughter had flown in to town from outside the country to help trade-in her late father's car and help her mother purchase another one. But because of the distance back to my customer's home, she was nervous about driving the car back herself.
As we worked to schedule delivery of her new car, she mentioned the suggested delivery date was on her late husband's birthday.
So, to recognize the day, we purchased a birthday cake and candles and as part of our delivery, we also recognized her husband's birthday on his first away from her. It was a touching and unforgettable moment for the customer and our team.
When asked how she would summarize her approach to creating a successful delivery experience, the past sales associate answered, "Listen to your customers. Listen to their needs, desires, experiences and then do something with it to customize the delivery experience in a meaningful way. It will really show you heard them."