Serving Teammates and Customers with Memorial Day Activities
Hendrick Honda Easley held a Memorial Day cookout for its teammates and invited their customers and community to join them.
Many of our Hendrick Automotive Group dealerships throughout the country paid their respects to our fallen soldiers by celebrating the opportunities they have fought so hard to secure for our citizens.
Special activities were planned, as stores like Mercedes-Benz of Durham (North Carolina), Honda Cars of McKinney (Texas), Terry Labonte Chevrolet (Greensboro, North Carolina) and Mall of Georgia MINI (Buford, Georgia) each held cookouts for their teammates that were also open to the community. At Hendrick Honda of Hickory, they invited the local fire department and celebrated first responders by bringing out a truck for kids to learn about fire prevention.
Meanwhile, two Hendrick Automotive Group dealerships – Hendrick Honda Easley and Hendrick Motors of Charlotte – created unique activities for their teammates and customers to participate.
Hendrick Honda Easley was open on Memorial Day and held a cookout and competition to recognize and remember current and past members of the military, customers, first responders and teammates. According to Marketing Manager Randy Ryan, it was a special day for all who attended.
"At Hendrick Honda Easley, we are more than a car dealership, we are family," Randy said.
To go along with the cookout, the dealership also held a hot dog eating contest, an idea that came out of one of their leadership morning meetings. The contest – which gave 12 contestants seven minutes to see how many hot dogs and buns they could eat to win a $500 prize – was hotly contested. When the dust settled, Service Manager Dustin Street came out on top by eating 12 hot dogs and buns while Tags & Title Representative Jimmy Bagwell (11 hot dogs and buns) and Master Mechanic Bill McCain finished second and third, respectively.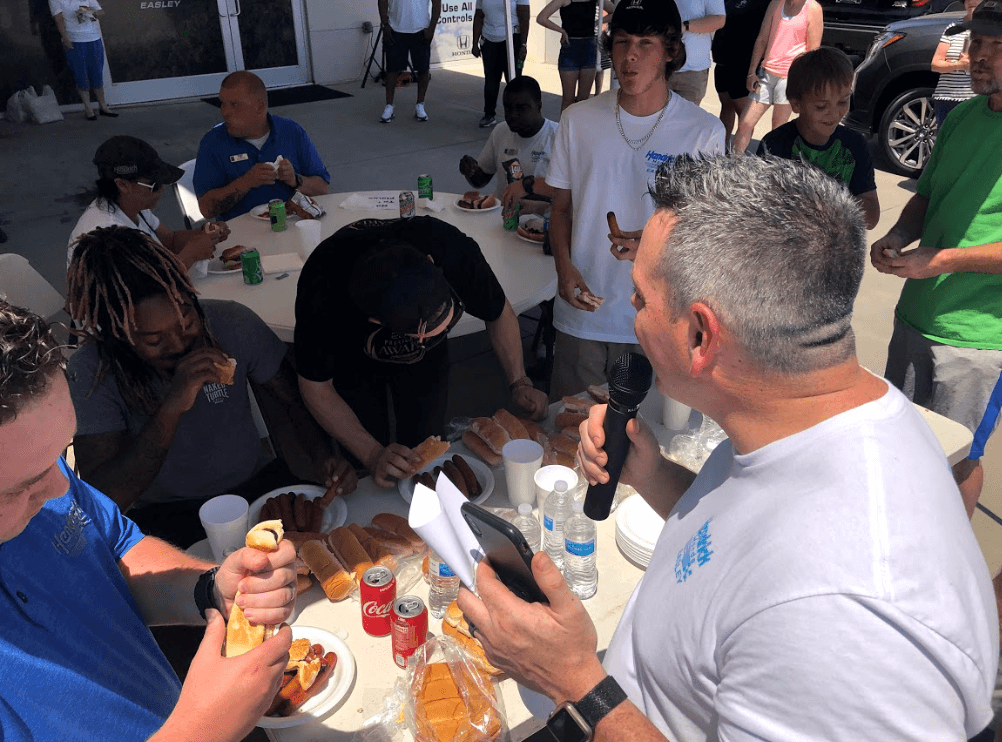 Contestants compete to see who can eat the most hot dogs.
Hendrick Motors of Charlotte also had a special Memorial Day at their dealership, inviting "The Tin Kitchen" food truck and a popsicle truck onsite for the afternoon. Along with teammates and their families, customers were also invited to participate.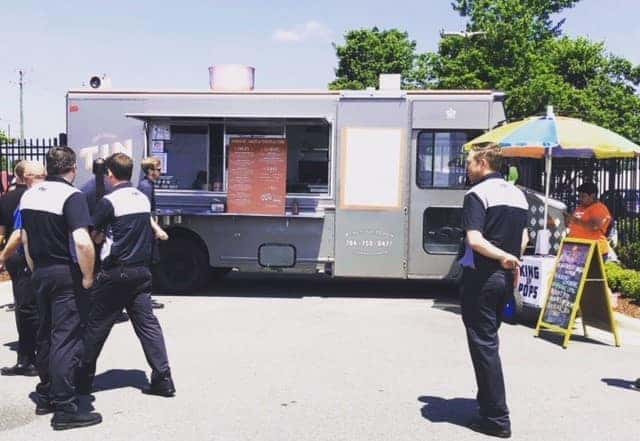 Teammates and customers participated in Memorial Day activities at Hendrick Motors of Charlotte.
"It is very important for us to take care of our customers," said dealership community and marketing representative, Jessica Vestal. "Showing them our appreciation for the opportunity to earn their business creates long-term client relationships."
Activities like these really brought to the surface the reasons for this national holiday.
"We made sure to show appreciation to our employees and customers who were veterans, and to honor the ones who are no longer with us because they made the ultimate sacrifice for our country," Vestal added.
What activities have you planned for your teammates and customers throughout the year?