Putting Omatanashi to Work for Our Customers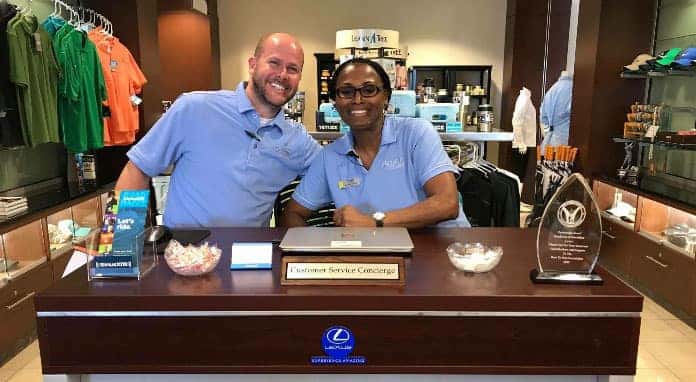 Marlene Seibles and Josh Dewberry at the new Customer Service Concierge desk in the waiting area of the Hendrick Lexus Northlake service department.
Hendrick Lexus Northlake in Charlotte, North Carolina has been working hard to anticipate customer needs and proactively respond. By appointing a teammate to serve as a customer service concierge in its service department, they keep customers apprised of the status of their vehicles and build relationships in the process. Learn more about their success in this Q&A with Hendrick Lexus Northlake Guest Service Manager, Deana Reel, and Customer Service Concierge, Marlene Seibles.
Q: What led your team to add a Customer Service Concierge in your service department?
A: Deana: During a conference where Lexus' new tagline "Experience Amazing" was introduced, we learned more about the meaning of "Omotenashi." After the conference, we explored how we could incorporate this type of proactive hospitality into all areas of our dealership.
When it came to customer service, we discussed that while we were making daily Customer Service Inquiry (CSI) calls that at the point we reached a customer by phone, which was often rare, that the experience had already taken place. What we all agreed we really wanted to do was identify changes we could make to assure better experiences in the first place.
And then the idea was born.
Q: Did you hire someone new or assign the role to someone already on your team?
A: Deana: We were able to transition our CSI Service Assistant, Marlene Seibles, into the role of Guest Services Concierge. Instead of having her make calls to complete CSI's, we set up a desk for Marlene in the service waiting area, armed her with a "walkie" and coordinated with the service department, so they would know to work with Marlene as a liaison between their department and the customers in the waiting room.
Q: How did it go over with customers initially? And, how have you found your customers to most rely on you?
A: Marlene: It was an immediate success. I've noticed that once a customer has been waiting for about 30 minutes, that they start asking for updates. At that point, they like to hear that their car is being worked on and they want an idea of how much longer it will take. I try to be proactive in checking on the vehicle status for them and use the opportunity when updating them to also engage them in a conversation. Whether you're talking to someone on a flight or in a service waiting area, talking helps make the time go by faster.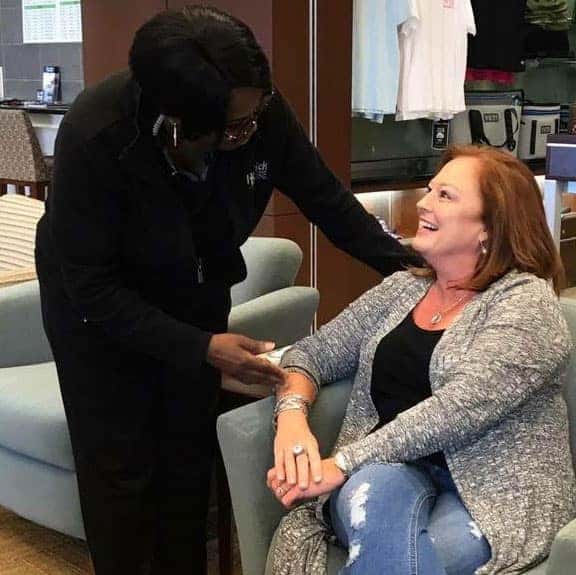 Q: Were there any hiccups along the way?
A: Deana: I wouldn't say there have been any hiccups, but we've certainly made improvements and additions along the way. For example, following their service visit with us, Marlene writes customer thank you notes and tries to personalize them with something that she learned from speaking with them. We also bring in breakfast biscuits on Monday mornings and purchased a hot box warmer to keep them warm for customers. These special touches and personal service seem to go a long way.
We typically hear responses like, "This is a great idea," or "I love that you're doing this. You didn't have this the last time I was here."
Q: What would you say to other Hendrick Dealerships thinking about implementing an approach like this?
A: Marlene: I would say it has definitely been worth it. We try to make it all about the guest. And, make sure we take good care of them while they are with us. We know they'll never forget how we've made them feel.
Deana Reel joined the Hendrick Family in 2011 and is originally from Indianapolis, Indiana. Now residing in Matthews, North Carolina, she enjoys being active in boot camp workouts, bible studies, and participating in activities with her children.

Marlene Seibles has been a part of the Hendrick Lexus family since 2012. She resides in Huntersville, North Carolina, where she enjoys reading and singing.