Media Outlets across NC and SC Capture Hendrick Teammates Working Together to Fight Hunger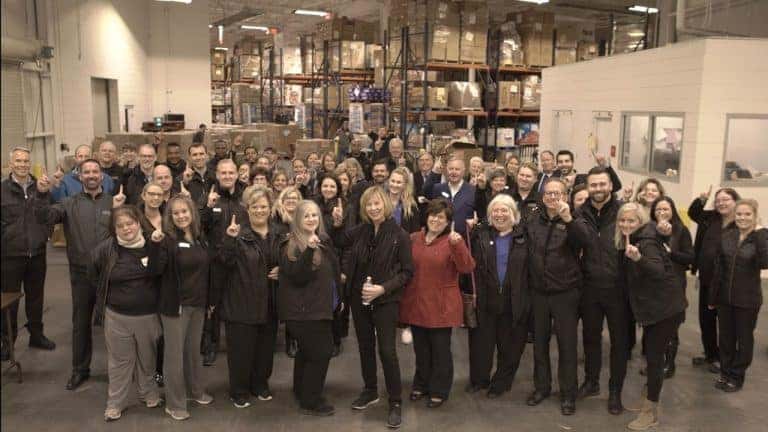 More than 80 Charlotte team members pack 2,500 meals at Second Harvest Food Bank in early March.
One of the most incredible things to witness is a group of caring people that comes together in service of others. You see it in their faces, while they are working, with the pure joy of knowing they are truly making a difference.
This year's Hendrick Automotive Group spring meal drive was one of those moments, as 76 of our dealerships, collision centers, accounting and support offices joined together to donate a total of 7,600 traditional holiday meals to feed 30,400 people facing hunger across the Southeast. It's the largest meal drive event in Hendrick Automotive Group history.
This entire project was only possible because of our teammates. They came together to donate the non-perishable items; they came together to pack the meals and when it came time to deliver those meals, our teammates were there to assist with placing the meals in the hands of families as well.
Check out this WCNC report on the Charlotte meal packing event at Second Harvest Food Bank of Metrolina:
In Charlotte, team members gathered on a snowy Monday at the Second Harvest Food Bank to pack more than 2,500 meals. Our partner radio stations filled the room with upbeat music, as an incredible assembly line of Hendrick Automotive Group teammates constructed boxes, filled them with non-perishable food items they had purchased themselves and at the end, placed those enclosed boxes on pallets for distribution. You could feel the energy take over the room.
FOX 46 Carolina was also there to provide their terrific coverage:
At the Hendrick Cary Auto Mall, a group of employees gathered in the conference room of Hendrick Chevrolet to pack about 350 meals to deliver to the Food Bank of Central and Eastern North Carolina. It was all "hands-on" deck there too, as they packed, loaded up the truck and delivered the food throughout the morning. A thankful food bank awaited the meal deliveries, as volunteers from the community were also there to provide a helping hand.
These 350 boxes were only a portion of the holiday meals collected across the Triangle area, as more than 1,500 meals were distributed to 6,000 people facing hunger throughout Raleigh, Durham, Chapel Hill and Cary.
Our friends from Spectrum News were present for the event as well:
The Hendrick Automotive Group dealerships in Charleston and North Charleston also had a special day of service. Coming together at the Lowcountry Food Bank, Hendrick Automotive Group teammates joined with the local Charleston-area Military Magnet Academy to pack and distribute 800 traditional Easter meals.
Once the food was packed, the teams re-gathered to distribute the food in front of Mitchell Math and Science Elementary School. The joy on each of their faces told the story, as they were able to provide meals to more than 3,400 local neighbors before the Easter holiday.
For more on Charleston's involvement, check out Brad Davis' incredible interview with Charlie James and the TMA Morning Show:
The giving didn't stop there. The team at Hendrick Honda of Easley teamed up with Golden Harvest Food Bank to donate, pack and distribute 100 meals to the people facing hunger in their South Carolina community. As teammate Randy Ryan reported, it was an "amazing day" as everyone came together in support of the program.
To learn more about the efforts at Hendrick Honda of Easley, see the clips & links below:
For more information on the Channel 4 News: Click Here
From more information on the Channel 7 story: Click here