Honda Cars of Rock Hill's General Manager Wins Award For Being A Patriotic Employer
Joel Suggs goes out of his way to make sure each of his teammates feel like part of the Honda Cars of Rock Hill family.
On April 1, 2019, Shelby Mayfield celebrated five years of working at Honda Cars of Rock Hill. He had no idea what a ride his life would take him on – and just how much Honda Cars of Rock Hill (HCRH) would be woven into that journey.
Shelby started in sales at HCRH in April 2014. He remembers appreciating the dealership's General Manager, Joel Suggs, and his supportive nature from the very beginning.
"I really appreciated how much Joel emphasized family, and it made me want to work even harder. At the same time, I had already been enlisted in the National Guard for four years and I had no idea what my future at HCRH would look like, but Joel and the team made me feel like part of their family all the same," Shelby shared.
Throughout his career at HCRH, Shelby has been activated several times with the National Guard. Following each return home, he said he was always welcomed back to work at Honda Cars of Rock Hill and was never made to feel like his absence was a burden to the team.
"I got to work in so many different departments – sales, finance, the body shop. No matter which department I was in, everyone was always accommodating of my commitment to the Reserve, and that absolutely came from the top down," Shelby said.
In November 2018, Shelby was called to full-time orders with the National Reserve and was training all over the country before his scheduled deployment to Kuwait, set for late 2019. Once again, Joel and the team at HCRH were extremely supportive and willing to help, even if that meant going to mow Shelby's lawn.
Right before his deployment, Shelby received a call that his mother's cancer diagnosis was taking a turn for the worse, and he realized that he would need to start making trips to Alabama to support her. Thankfully, the Reserve was able to grant him leave so that he could be present for his mother's treatment.
Additionally, Shelby also circled back with the HCRH team to see if he could transition back onto their sales team while still making trips back and forth to Alabama.
"Not only did Joel and the team not hesitate, but they said they wanted to do anything they could to help – especially as I was away supporting my mom. I could not believe the level of support I was receiving," Shelby shared.
As Shelby was doing some research, he found that the Department of Defense had a program called Employer Support for the Guard and Reserve (ESGR). It's not only a program to report employers who don't embrace those in the military – it's also a program to recognize those who do, and who do it exceptionally well. Shelby decided to submit Joel Suggs and Honda Cars of Rock Hill for their annual award, and before he knew it, he was being notified that Joel and the dealership would be recognized.
Not only did the dealership win the award, but General Manager Joel Suggs was personally recognized for his support of Shelby Mayfield and his family. The Chairman for the South Carolina ESGR even surprised Joel with a small awards ceremony. We are so proud of Joel and the team at HCRH for all they do to make their employees feel like part of the family.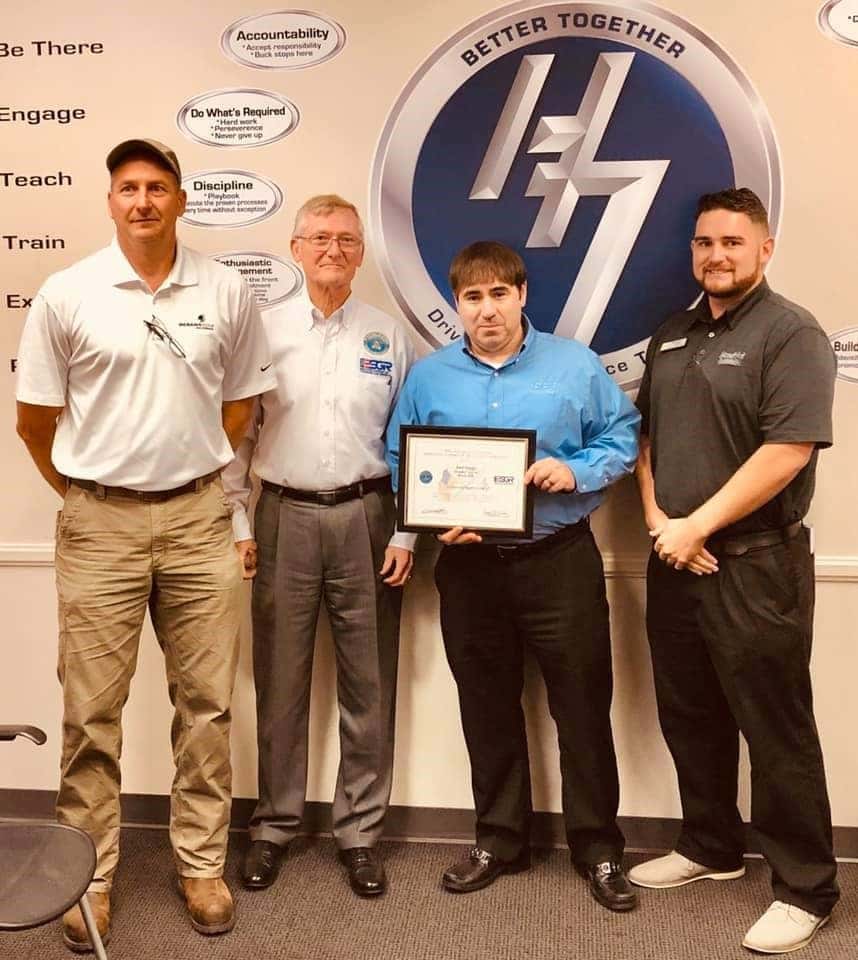 Joel Suggs, General Manager of Honda Cars of Rock Hill, was presented the award by the South Carolina Chairman for the ESGR and another ESGR employee.