Hendrick Collision Center of Buford Provides a Special Gift to a Veteran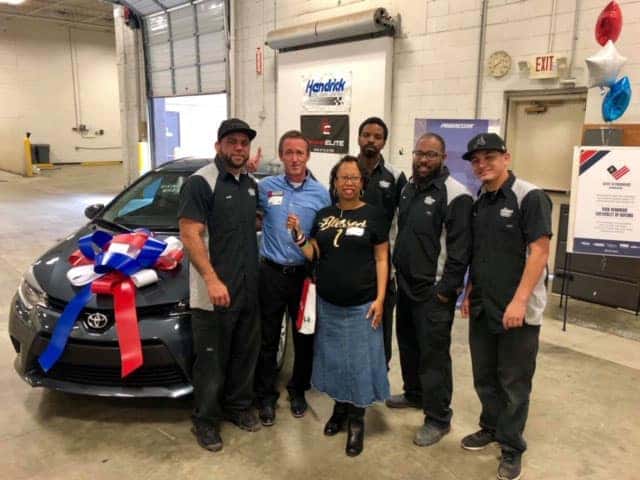 Hendrick Luxury Collision Center teammates in Buford provide a special gift to Ashley Williams, a deserving U.S. Army veteran from North Georgia.
What happens when one deserving veteran is connected to a group of Hendrick Automotive Group teammates who are living out their company's core values? A very special gift for both occurs.
In partnership with Progressive Insurance, teammates from Hendrick Luxury Collision Center of Buford, Georgia provided Ashley Williams with a 15,000-mile 2016 Toyota Corolla. The collision center's involvement in the program to benefit local veterans began four years ago and is a unique way to create a deeper connection with a valued partner.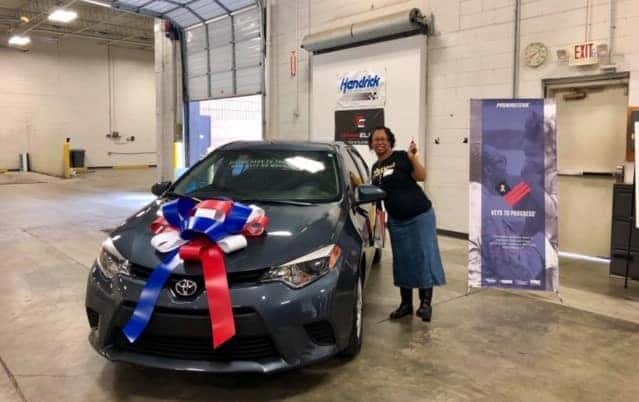 Eight-year Army veteran Ashley Williams stands beside her re-furbished Toyota Corolla. Teammates from Hendrick Luxury Collision Center of Buford provided the vehicle through Progressive's Keys To Progress program.
Through Progressive's "Keys To Progress" program, which began in 2013 to provide a fully functional, re-furbished vehicle to veterans in need of independent transportation, our teammates in Buford were able to assist, prep and deliver a terrific vehicle to a deserving North Georgia veteran who needed transportation to help get back on her feet.
"We really enjoy doing events like this," said Rick Eve, Manager, Hendrick Luxury Collision Center of Buford. "We love giving back to the community – it is so rewarding. The smiles you receive from everyone shows you what a difference you are making. These veterans are so deserving of these vehicles."
Ashley, who served in the Army for eight years, was stationed in Iraq from 2007-2008 and is actively seeking employment, but had to depend on public transportation, which limited her options. Ashley is a giving person and not only helps to take care of her mom who lives with her, but she also helps take care of her elderly grandparents. In addition, Ashley is expecting a baby and depends on her friends to take her places but when not available, she is unable to run her many errands. This vehicle will enable her and her baby to get much needed prenatal care, along with the freedom to work and care for loved ones.
"It makes me so proud to work for a company like Hendrick Automotive Group," said Rick Eve, Manager, Hendrick Luxury Collision of Buford. "It's important to give back to our community, and it's a core value of our company. It comes from Rick Hendrick."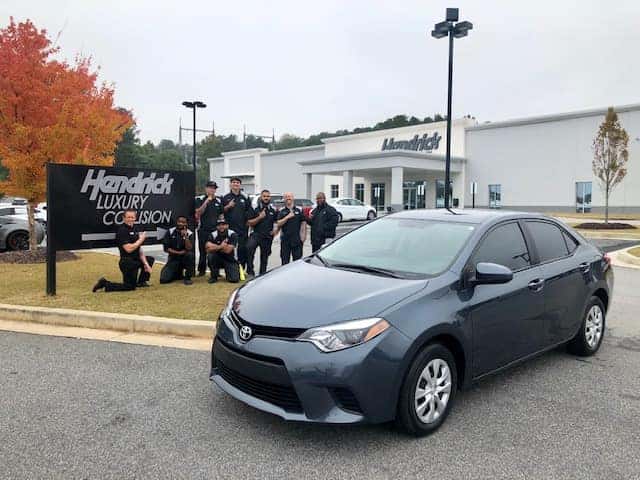 Teammates from the Hendrick Luxury Collision Center of Buford joined together to help re-furbish a vehicle for one deserving veteran.
The donor vehicle was stolen and recovered and needed a few updates that the Hendrick Luxury Collision Center of Buford was thrilled to help with. They donated their time, a few parts and were able to provide a nice, safe vehicle for Ashley. Upgrades included four new tires, front and rear bumpers and doors, front and rear doors, along with a total clean-up of the interior and changed its filters. Fluids and filters were also replaced while the windows received a brand-new tint.
As part of this celebration, Progressive raised $1,870.54 to assist Keys To Progress recipients with insurance, maintenance, or other needs they may have. More than 500 vehicles have already been donated via this program since 2013.
How are you working with your partners to help benefit the community?