Hendrick Automotive Group Teams Help Local Students Have A Great Start To The School Year
When many of us were kids, back-to-school shopping was one of the best parts of summer. But there are many students throughout our communities that will not be showing up on the first day of school with new clothes and fresh school supplies. We are proud to share the approach that three different Hendrick Automotive Group teams took to address this concern.
"Angel tree" Bookbag Program
When Matthew Carr from our Business Development team learned that 51 students at Myers Park Traditional School were in need of school supplies, his first thought was that this number was "doable."
"When I thought about how many people we had across the different teams at our Hendrick Independence Center (HIC) campus, I realized that we had a great chance at tackling this number to ensure every student at Myers Park Traditional would start the schoolyear with the tools they needed to be successful," said Matthew.
And boy, was Matthew right: the teams organized an "angel tree" program that gave Hendrick teammates the opportunity to shop for exactly what each student would need, and the response was immediate. The teams at HIC and Hendrick Lexus of Northlake collectively pulled together more than 51 kits of brand new school supplies and delivered them before school started.
"It is such a great feeling to know that each child will walk into school on the first day and have all of the school supplies they need, and I'm so grateful to our teams at HIC and Hendrick Lexus of Northlake for making this happen," Matthew said.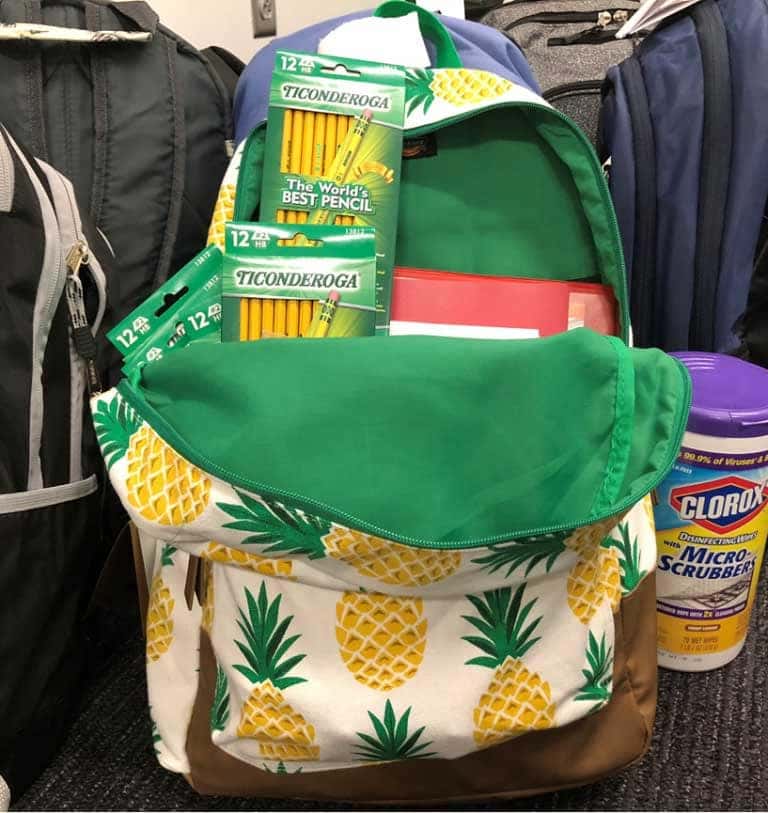 A sample of the bookbags that the teams put together.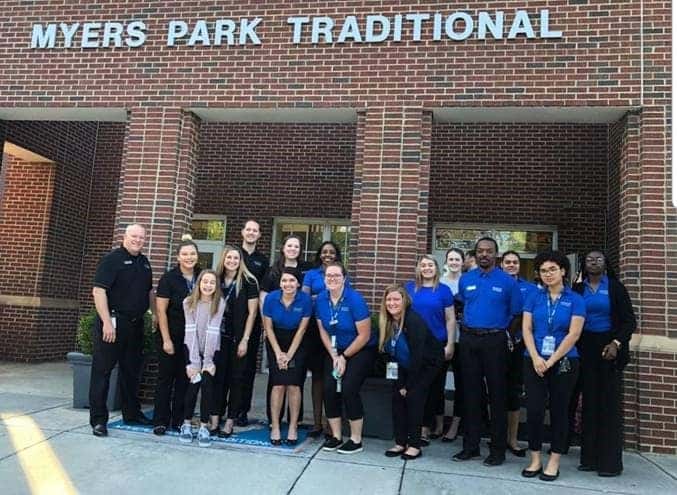 Hendrick Automotive Group teammates drop off the bookbags at Myers Park Traditional School in Charlotte, NC.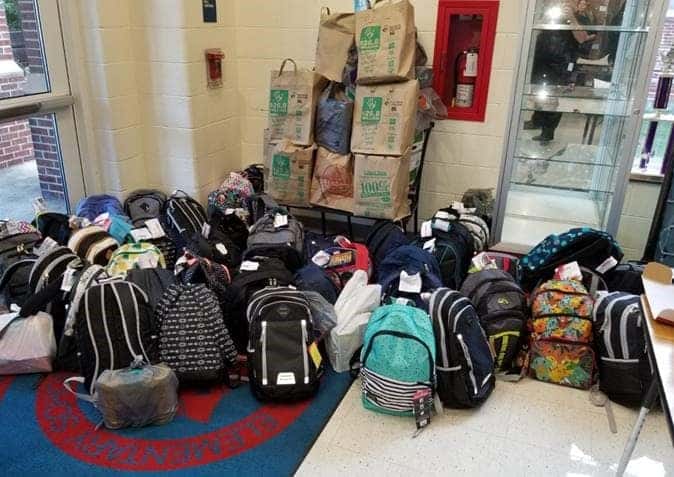 Check out all those bookbags!
Joining forces with other companies and serving as drop-off location for a community-wide drive
Hendrick Honda has long been known for serving as a drop-off location for School Tools, a local program organized by WSOC-TV Channel 9. Because this initiative is a community-wide drive, it gives this Hendrick team the opportunity to join forces with other local businesses to really make a big impact in the lives of local students. Plus, it gives the team a chance to share the importance of drives like these with their customers.
"When customers walk into our showroom, they don't necessarily expect to talk about how important school supplies are for our local students. But when you have a big collection of school supplies in your front lobby, it inevitably gets brought up, and it's a great chance for us to share the message of how much Hendrick Cares for our nearby schools and kids," said Anne Lewis, who serves as the Digital Marketing Manager at Hendrick Honda.
Time has not run out to give! If you live close to Hendrick Honda, you're welcome to drop off school supplies any time during regular business hours. For more information about what school supplies are needed, please visit the School Tools website.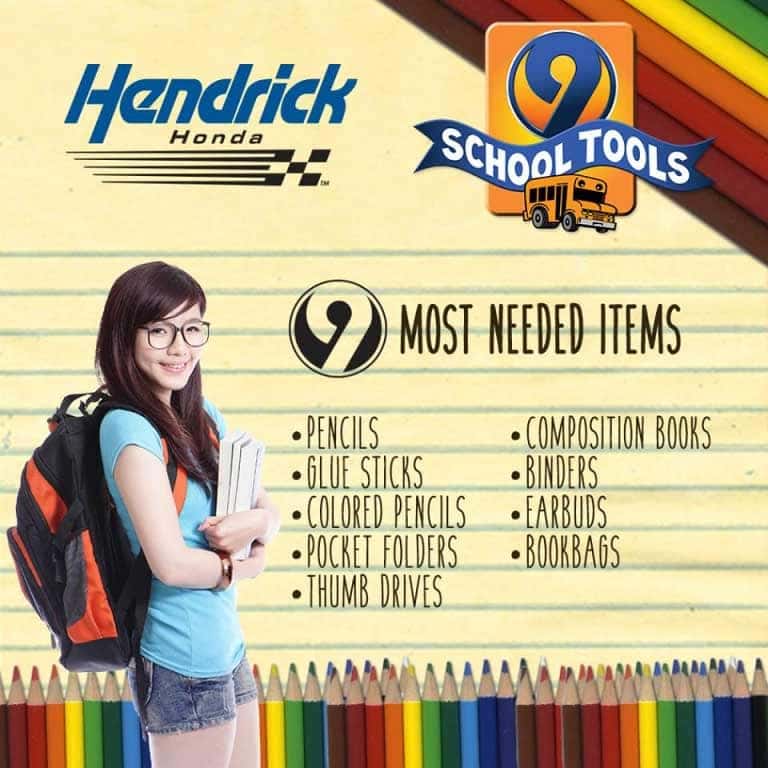 Dealerships partner together to make a greater impact
What did the Hendrick Automall of Concord Mills do when they heard that their school partner, Wolf Meadow Elementary School, needed school supplies? They pulled together as a group and found a way to address the urgent need!
"When our partner school comes forth and says they need something, we know we have to make it a priority because these teachers are advocating for students who do not have the opportunity to advocate for themselves, especially in front of groups as large as Hendrick Automotive Group," said Jennifer Gomez, the Guest Services Manager at Honda of Concord.
The Automall team, made up Hendrick Toyota, Honda of Concord, Hendrick Volkswagen of Concord, Kendrick Kia of Concord, and Hendrick Chrysler Dodge Jeep RAM of Concord, made sure to ask the staff at Wolf Meadow Elementary about specific needs of their students so they could be sure to collect all the most-needed items.
"It's such a great feeling to know that glue sticks and dry erase markers can make such a difference for these kids, and I'm so glad we could organize this drive for them," said Jennifer.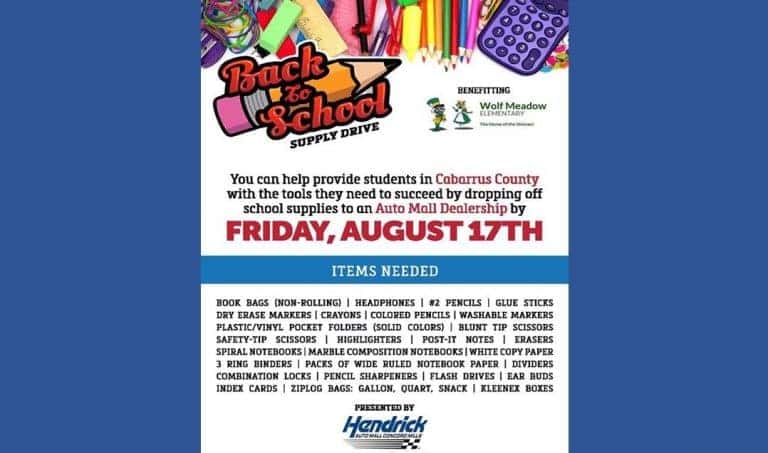 Below are some more pictures of other dealerships that found creative ways to give back to local schools for the back-to-school season.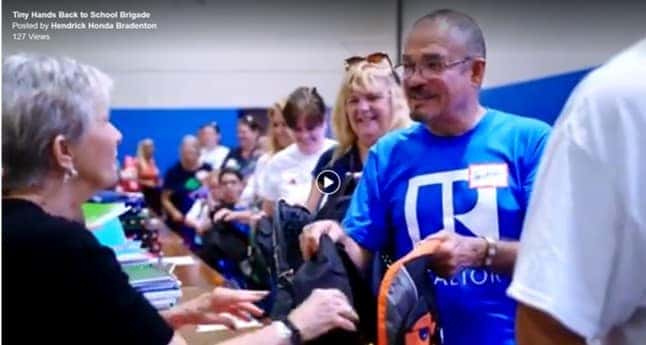 Hendrick Honda of Bradenton teammates participate in the Tiny Hands Foundation's "Back to School Brigade", where the foundation is working towards providing 1,500 children from Manatee County with backpacks filled with school supplies.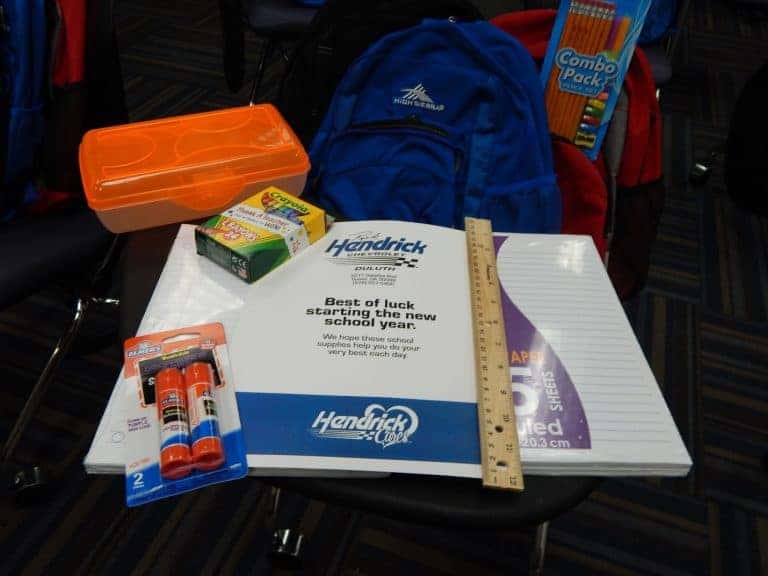 Rick Hendrick Chevrolet Duluth collected supplies and bookbags for students attending Ferguson Elementary School and Beaver Ridge Elementary School.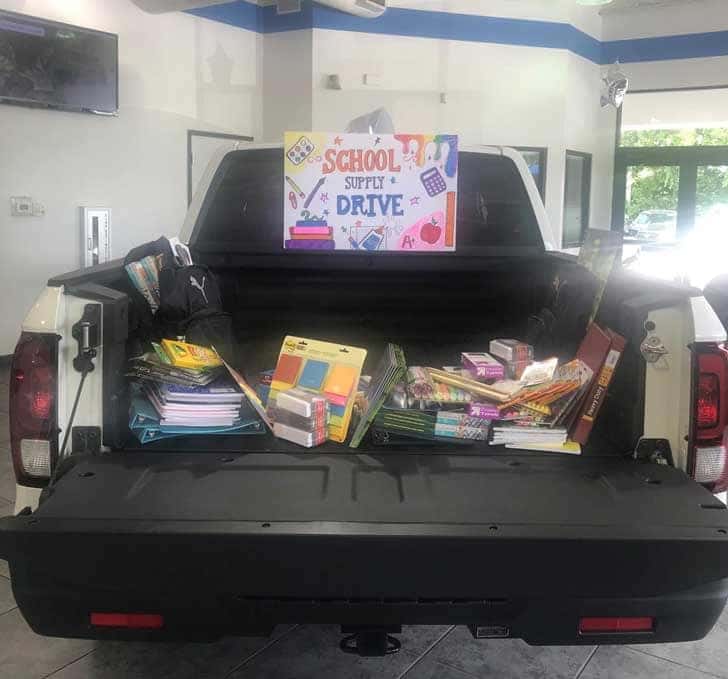 Hendrick Honda Pompano Beach had a drive to collect school supplies for nearby Pompano Beach Elementary School for the upcoming schoolyear.
Wishing everyone a very happy schoolyear!