Hendrick Automotive Group Is Ready For Back To School
Getting ready to go back to school is exciting, but it can also be a source of stress for teachers and parents. Along with new schedules and classmates comes the financial burden of getting new school supplies. According to a survey conducted by the National Retail Federation, families spent an average of $117.49 per child on supplies for the 2019 back-to-school season, an amount that can be overwhelming for many families. As a result, some children show up to the classroom without the basic tools they need for success.
Hendrick Automotive Group is a committed partner of local schools, so our teammates sprang into action to help make sure every student has the tools they need, and that teachers are ready to start the year off right. Several dealerships and office departments around the company hosted supply drives, fundraisers and special events to help their communities get ready to go back to school.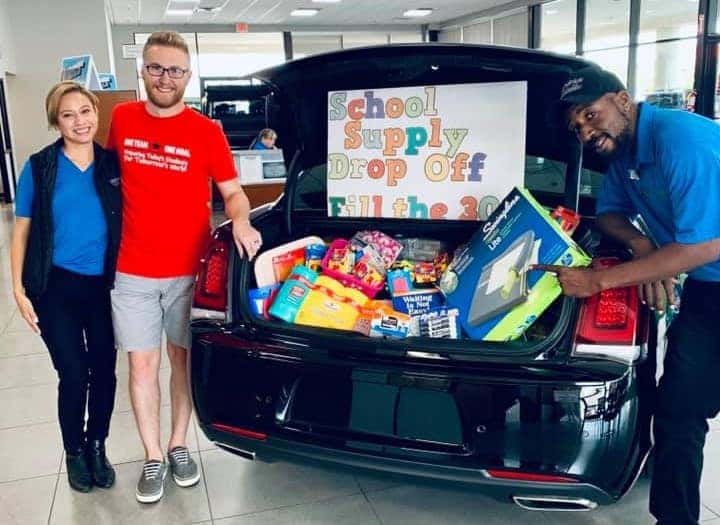 Hendrick Chrysler Jeep FIAT in Fayetteville, North Carolina hosted a school supply drive in their dealership and challenged their teammates and customers to fill the trunk of a Chrysler 300 with donations. As you can see, it was a huge success! Donations of the most needed supplies were overflowing by the end of August, all to benefit a local 3rd grade classroom at Sandy Grove Elementary School.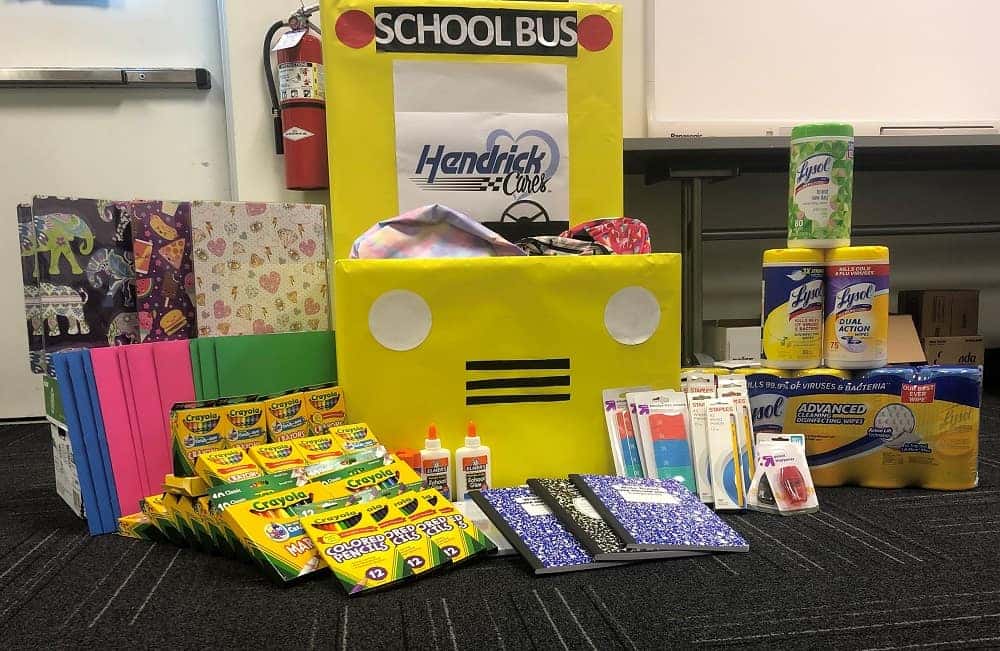 Teammates in the Charleston Consolidated Accounting office helped Goldwin Elementary get ready for the new school year. They decorated their Back to School Bus Bin to inspire employees to donate needed supplies, and collected more than 400 pencils, notebooks, folders, etc…Godwin Elementary is a local Title 1 school that counts some of our own teammates as alumni, which is even more inspiration to give back!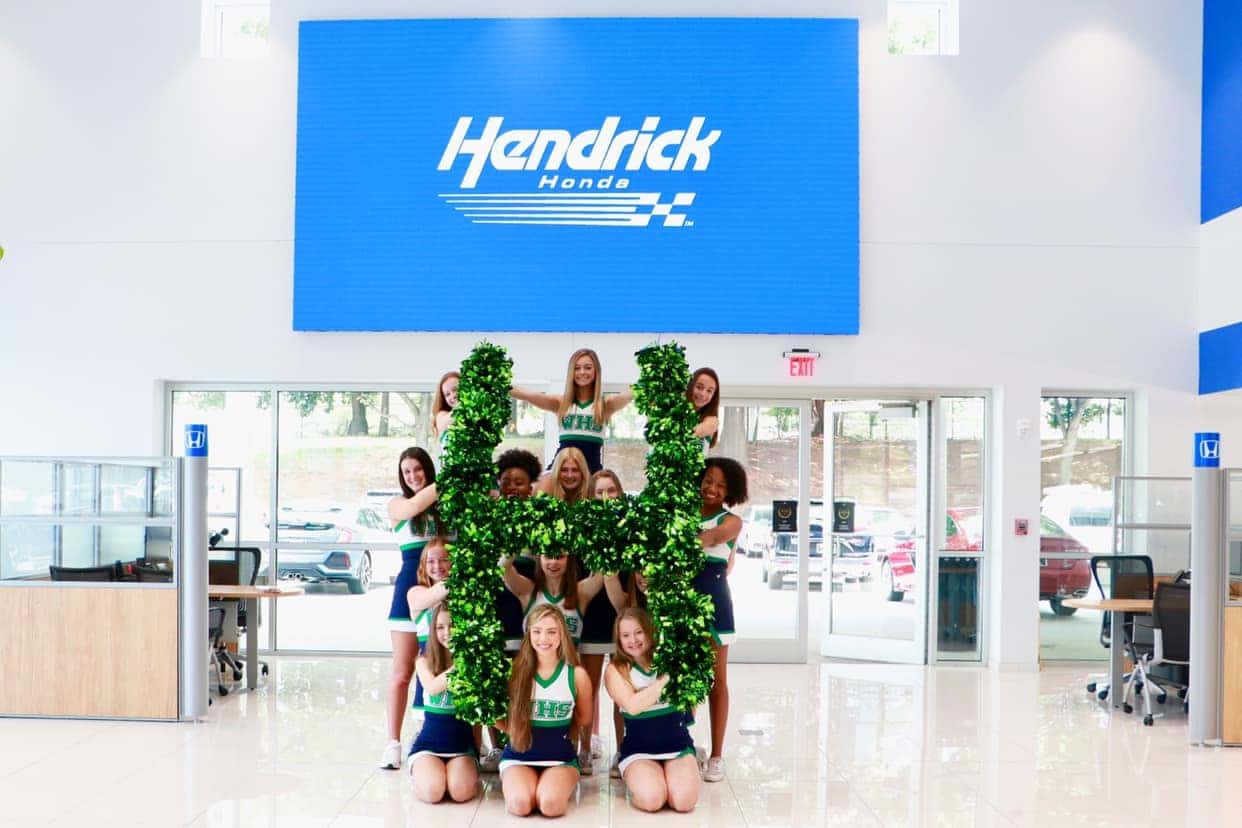 The cheerleading team from Weddington High School stopped by the dealership to spread some spirit and thank Hendrick Honda in Charlotte, North Carolina for sponsoring their team for the new school year.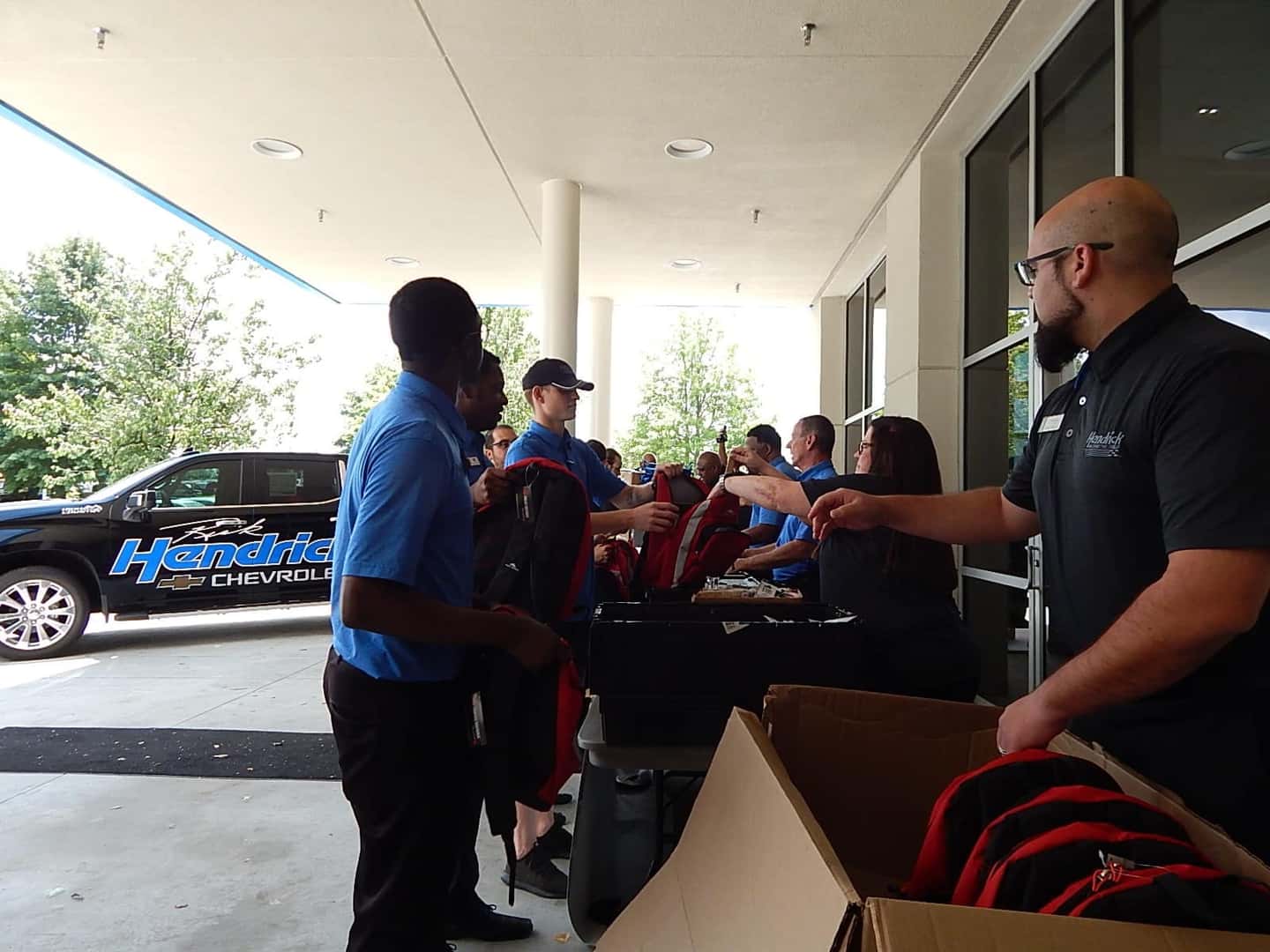 Rick Hendrick Chevrolet Duluth collected school supplies and volunteered their time to stuff 300 backpacks to donate to local children in need. "We always want to remember one of our biggest blessings in life and that is to serve others. That day we got a chance to do that!"
Rick Hendrick City Chevrolet in Charlotte, North Carolina partnered with local morning show Wilson's World to host a month-long supply drive for Classroom Central, an organization that distributes free school supplies directly to teachers. They kicked off their event by donating 10,000 pencils and offered $10 off any service for customers who donated.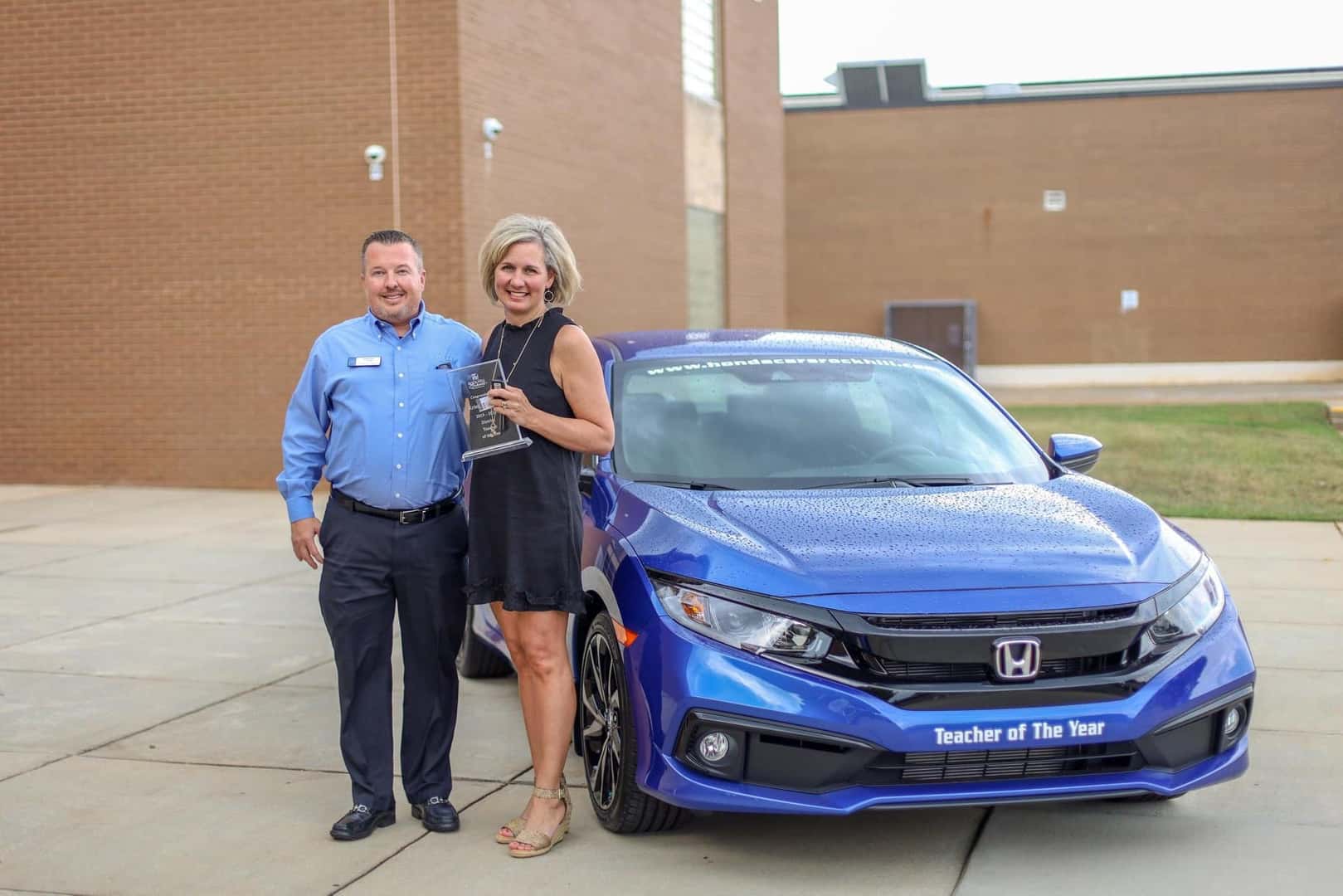 Celebrating teachers and administrators is another important way to support schools. Honda Cars of Rock Hill in South Carolina was proud to present Kristi McGuirt, Rock Hill Teacher of the Year, with a new 2019 Honda Civic Sport for the upcoming school year at a back-to-school pep rally.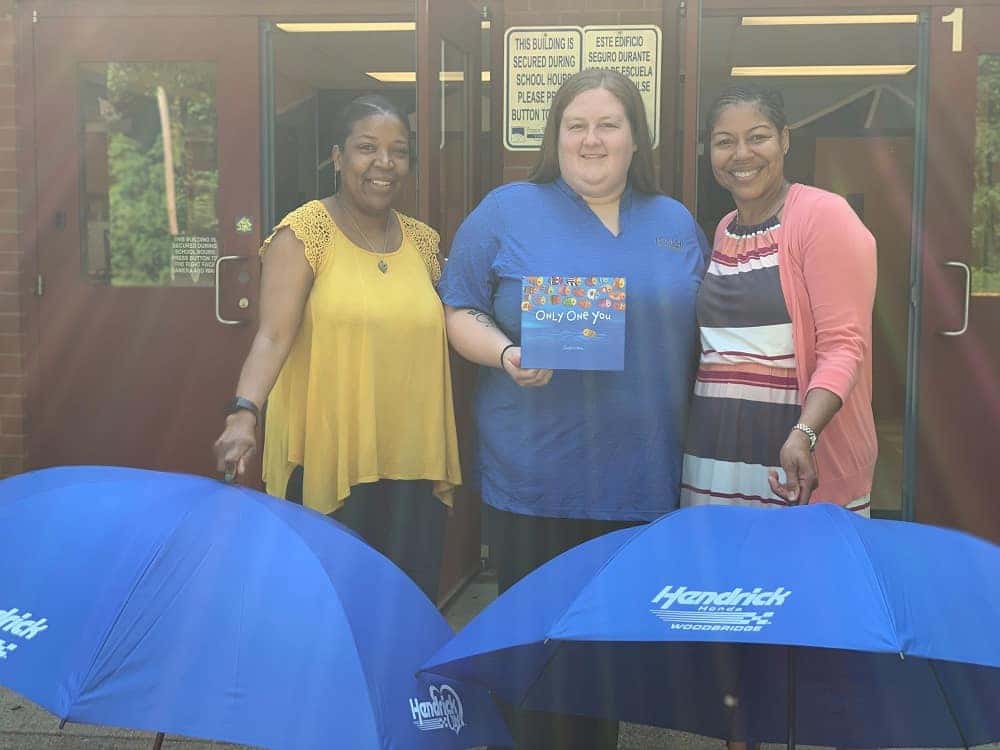 Hendrick Honda Woodbridge has partnered with Potomac View Elementary School, and started the new year by dropping off umbrellas to keep everyone dry during rainy days in the school drop off lane.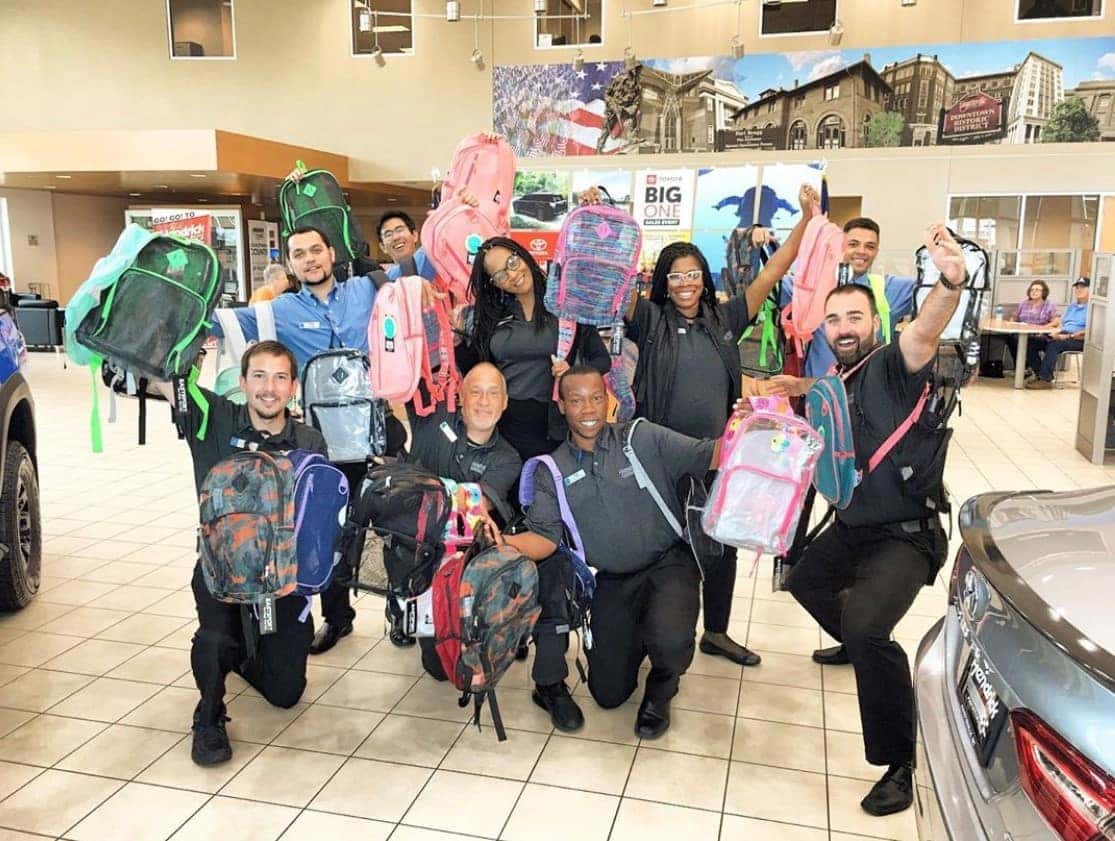 Rick Hendrick Toyota of Fayetteville in North Carolina is ready for back to school! Here they are with 60 backpacks to donate to children in their local Cumberland County Schools. That's some A+ work!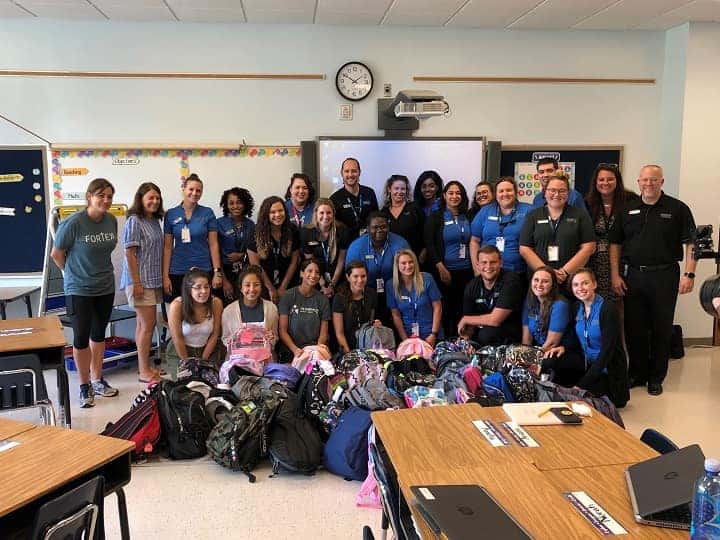 The Hendrick Automotive Group Business Development Center donated 50 backpacks full of school supplies to Myers Park Traditional School in Charlotte, North Carolina. These fully stocked backpacks will ensure that 50 students in need will hit the ground running on their first day of school.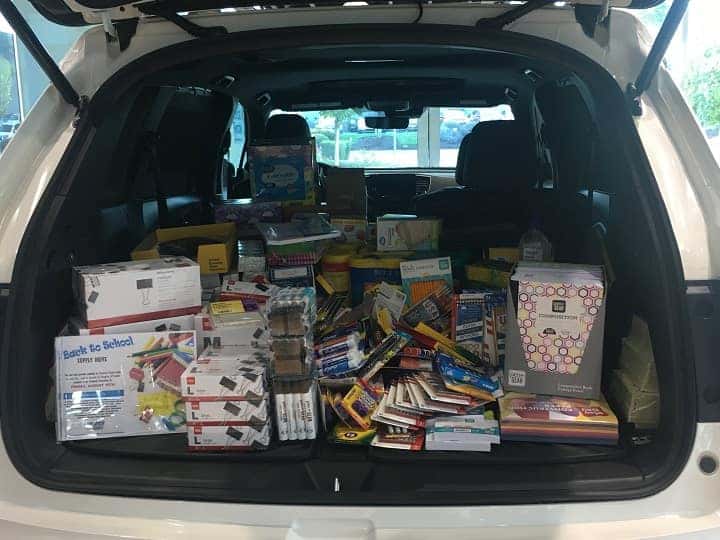 The dealerships in the Concord Auto Mall in North Carolina teamed up to host a school supply drive to benefit Wolf Meadow Elementary School in Cabarrus County. "When our partner school comes forth and says they need something, we know we have to make it a priority because these teachers are advocating for students who do not have the opportunity to advocate for themselves, especially in front of groups as large as Hendrick Automotive Group," said Jennifer Gomez, the Guest Services Manager at Honda of Concord.
How are you stepping up when you see a need in your community?