Charlotte Employees Impact Community in Their Own Backyard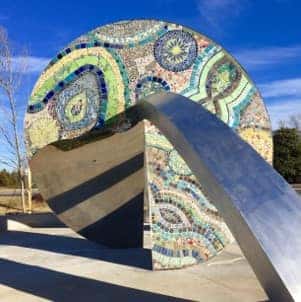 The final "Embrace" public art project was originally designed to bring community together.
Hendrick Automotive Group helped contribute to the Monroe Road Advocates (MoRA) public art installation by participating in work sessions to paint tiles to be placed within the art project.
Norma Wilkins and Grace Daproza attended the tile making sessions along with other teammates. Norma also wanted her daughter to contribute to the project because they live in the community and her children grew up here.
"My children attended schools in the area, so it felt like a great opportunity to leave a lasting impression," said Norma. "Everyone seemed really happy and excited during the session. My daughter and I attended along with four of my teammates. I enjoyed myself so much that I even went back to make more tiles for the project on my own."
"The public art project is an amazing statement piece for the community. Not only that, but a beautiful gathering place for our neighbors to enjoy events like monthly outdoor concerts," Norma continued.
"I was proud to show my grandkids their names on the tiles I made for them," said Grace. "I was right at home because I love arts and crafts. Ten of my Hendrick Automotive Group teammates were there as well, and we all had a great time laughing and making the tiles together."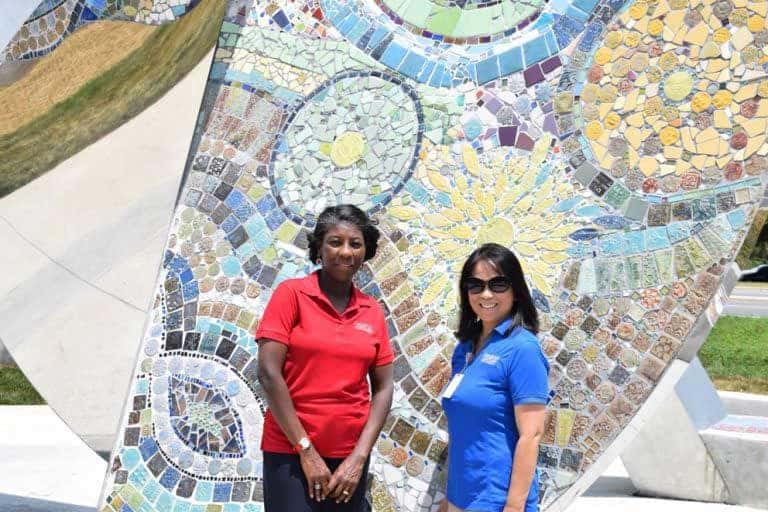 From left to right: Norma Wilkins and Grace Daproza visit the "Embrace" public art project that contain tiles that they made for it last year.
In addition to employees contributing tiles, Hendrick Automotive Group donated $5,000 in support of the project since the art installation organized by MoRA is nestled between Hendrick Automotive Group's two corporate office buildings in Charlotte on Monroe Road and Independence Boulevard. The unveiling ceremony can be seen in a video here.
"The sculpture is a tribute to this community's spirit, hard work and generosity and is a sign of what we can do as a community when area residents, businesses, churches and schools work together," said MoRA board member Richard Darlington. "We remain very appreciative of the way Hendrick Automotive Group embraced the project with us."
How can you serve? Sometimes the need is closer than you think.