Charleston Stores Credited with Helping Keep Kids in School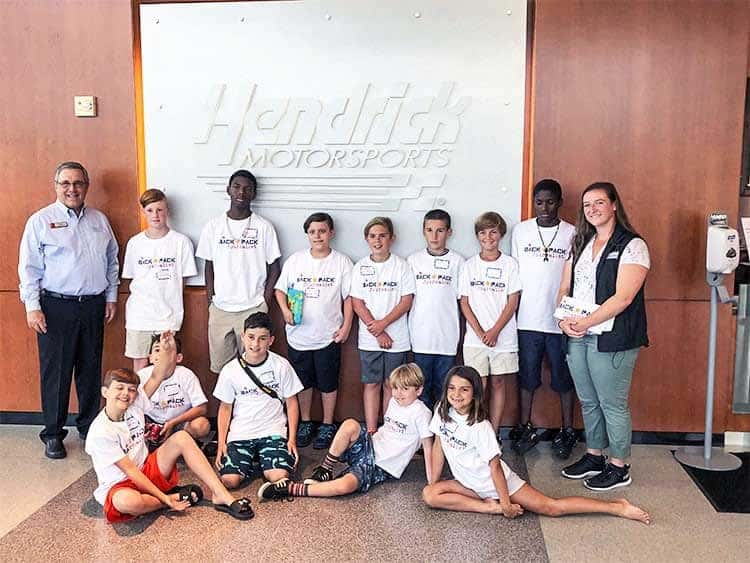 Hendrick Automotive Group dealerships in Charleston and North Charleston recently hosted a fieldtrip to Hendrick Motorsports in Charlotte for 12 students from the 'A Backpack Journalist' program. This adventure wasn't only fun but helps kids stay in school.
They had done their research and were ready for their next tour. But before they went, one of the Backpack Journalists raised their hand after peering through the window into an open race shop area filled with NASCAR Cup Series cars in various states of build at Hendrick Motorsports.
"Do those wheels have camber?"
Tour guide Stephanie Morris stopped for a moment, thoroughly impressed with the question.
"Wow. There aren't many people who even know what camber is," Morris beamed. "Yes. Those race cars have cambered wheels to better grip the race track. That's a terrific question."
The 12 'A Back-Pack Journalist' students continued their tour of Hendrick Motorsports, hosted and supported by the Charleston and North Charleston-area Hendrick Automotive Group dealerships. They traveled to Concord, North Carolina on a bus chartered by the dealerships, and they were asking lots of great questions.
"Without learning about math, science, engineering and technology, these kids don't stand a chance in the future," said Linda Dennis, 'A Backpack Journalist,' program manager. "Our basic scholastic journalism concepts are combined with giving real-world opportunities to young people. It truly makes a difference."
The program, which began in 2005 as a family letter writing group for military students and their families, has grown into an impressive after school enrichment and Saturday school education program for young people, many of whom are at-risk or living in stressful environments. The Charleston-area dealerships community outreach program thought they could help.
"We started out with the Hendrick Automotive Group Charleston dealerships three years ago," Linda said. "Not long after that, we started learning about a car engine and how it worked. Suddenly, we had kids who were in Title I Schools, learning that by staying in school they had a chance. Hendrick Automotive Group's support has helped these kids stay in school."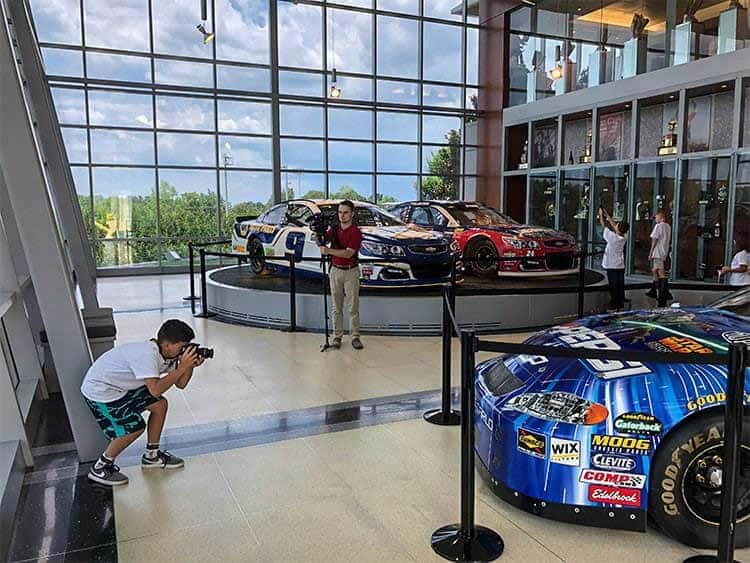 On tour, the students visited every part of Hendrick Motorsports including the chassis shop, engine shop, paint booths, body shop and car-preparation areas. They learned about the importance of understanding math when building the cars to fit NASCAR's rules and templates, the importance of engineering in the development of race engines, as well as all the latest technology that goes into building parts. They learned that it takes 120 hours alone to weld together an entire chassis.
"It's unlimited what they are taking home from this tour," Linda said. "Just seeing everything, close-up, they watch it on television as some of them are NASCAR fans too. These kids now see, first hand, cool technology and how these cars are put together. It makes it easier for them to connect the dots and understand what's needed to get here. Hendrick Motorsports and the Charleston dealerships play an invaluable role in education by allowing these kids to experience this. A lot of places won't let kids in. A lot of these places say, 'you need to wait to get out of high school.'"
Linda went on to talk about how Hendrick Automotive Group has impacted the growth of the program.
"The dealerships bring in an engine and parts," Linda said. "We have a plastic engine that we have on display, but when you bring in a real engine and they get to see it – it makes a difference. Also, the Hendrick Collision Center has an incredible painter. He brings in jars and shows the students how paint works. They really start to get it, and it's a very hands-on experience. Bring the items to us, and then let the students go to a showroom, it can be one of the most exciting things these kids do. When they raise the hood, and show them where each item goes, they suddenly connect the dots and see how things work. It's a great way to take a book and make it come alive."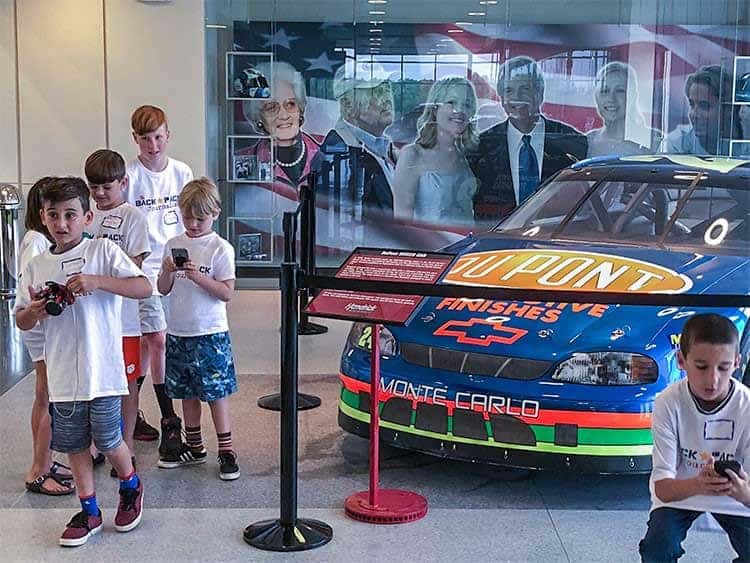 "As a result of beginning with Hendrick Automotive Group three years ago, we are now aligned with the South Carolina Port Authority," Dennis continued. "We are expanding our reach and beginning to collect stories about really important opportunities for our students in the low country. Right across the street from where a lot of these kids live, there's hundreds of jobs. The message is stay in school. Pass your math, English and science, it makes a difference. You must show them a path."
By the way, camber angle is the angle made by the wheels of a vehicle; its is the angle between the vertical axis of the wheels used for steering and the vertical axis of the wheels when viewed from front-to-rear. In NASCAR, camber assists the race car in cornering, maintaining contact to the pavement due to body roll.
Stay in school, indeed.